86.67% (1.3 Pips) Autorebate - Instaforex Daily Automatic Payment
moneygrows
Posting Freak


Posts: 10,406
Threads: 2
Joined: Apr 2011
Reputation: 0

Bonus InstaForex
Broker InstaForex hanya menawarkan teknologi terbaru untuk dagangan dalam talian bagi memastikan para pelanggan mencapai hasil keuntungan yang maksima di dalam perdagangan Forex. Selain daripada menyediakan keadaan perdagangan yang kondusif, InstaForex juga telah menyediakan garis bonus istimewa untuk para pelangganya.
Berdasarkan pada senarai bonus dibawah, anda berpeluang untuk memilih salah satu pilihan yang paling sesuai untuk anda. Di bawah ini adalah merupakan bonus penyertaan untuk para pedagang yang menambah dana buat kali pertama ke dalam akaun dagangan dengan InstaForex dan juga bonus untuk ahli Kelab InstaForex. InstaForex menyediakan setiap pelangganya peluang untuk menerima bonus terbaik untuk perdagangan dalam pasaran mata wang.
Bonus 250%
InstaForex telah melancarkan program bonus yang tiada tandingan bagi pelanggan baru. Bermula dari 15 Jun, setiap pelanggan baru InstaForex boleh mengidamkan ganjaran bonus 250%.
Bonus Kerjasama LFC 100%
InstaForex dengan sukacitanya ingin mengumumkan kempen baru! Sepanjang tempoh kerjasama InstaForex bersama penyandang gelaran juara 18 kali Liga Perdana Inggeris, Liverpool FC, pihak pengurusan InstaForex telah membuat keputusan untuk melancarkan kempen menarik. Kini, bonus baru yang tiada tandingan boleh didapati untuk kesemua pelanggan.
Bonus 55%
Sebagai salah seorang daripada pelanggan InstaForex, anda berpeluang untuk mendapatkan bonus 55%. Oleh itu, anda akan dikreditkan dengan bonus 55% setiap kali anda melakukan pendepositan ke dalam akaun dagangan anda.
Bonus Penyertaan 30%
Kesemua pelanggan InstaForex akan dikreditkan dengan bonus Penyertaan 30%. Satu-satunya syarat untuk mendapatkan bonus ini adalah mendaftar akaun perdagangan dengan syarikat dan mengisi borang permohonan.
Bonus Kelab Instaforex
Bukan sahaja kad kelab InstaForex menawarkan pelbagai faedah istimewa tetapi juga memberikan peluang kepada para pelanggan untuk mendapatkan bonus istimewa untuk setiap pendepositan. Kesemua pemegang kad Kelab InstaForex berhak untuk mendapatkan bonus kelab selepas kad diaktifkan.
moneygrows
Posting Freak


Posts: 10,406
Threads: 2
Joined: Apr 2011
Reputation: 0

1. Pastikan anda pelanggan baru.
2.
Register akaun Insta
.
3. Pastikan anda verify akaun anda. Perlu upload salinan IC dan bil semasa. Kebiasaan ambil masa dalam 24-48 jam hari bekerja.
4. Bila dah lulus proses verifikasi, klik
link khas ini
tuk mengetahui jumlah bonus yang layak dan boleh claim.
moneygrows
Posting Freak


Posts: 10,406
Threads: 2
Joined: Apr 2011
Reputation: 0

Sub IB commission increased twofold!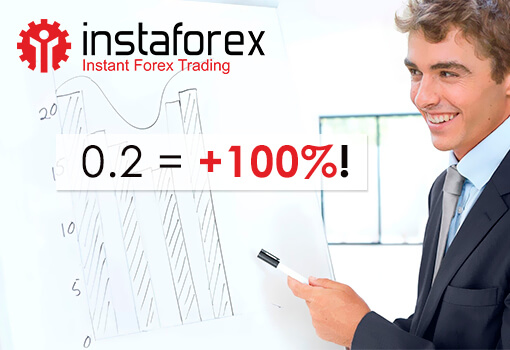 Dear partners,
InstaForex is glad to announce a commission rise in the two-level Sub Introducing Broker program. The commission was raised by 100% to 0.2 pips of a client's trade of every sub-partner. This is one of the highest commissions in the market, according to a marketing research conducted by the company. Now partners can focus on referring both new clients and partners as commission from sub-partners' clients will bring in twice as many profits!
moneygrows
Posting Freak


Posts: 10,406
Threads: 2
Joined: Apr 2011
Reputation: 0

RBA Minutes On Tap For Tuesday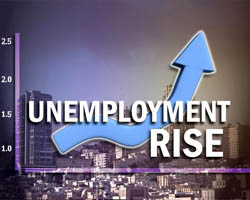 The Reserve Bank of Australia will on Tuesday release the minutes from its June 6 meeting, highlighting a modest day for Asia-Pacific economic activity.
At the meeting, the RBA decided to retain its interest rate at a record low 1.50 percent for the ninth consecutive meeting.
Australia also will see Q1 figures for house prices, with forecasts suggesting an increase of 2.2 percent on quarter and 8.9 percent on year. That follows the 4.1 percent quarterly increase and the 7.7 percent yearly gain in the previous three months.
New Zealand will provide June data for the consumer confidence index from ANZ; in May, the index climbed 1.8 percent to a score of 123.9.
Japan will release May figures for nationwide and Tokyo area department store sales; in April, sales were up 0.7 percent on year and down 0.8 percent on year, respectively.
Hong Kong will provide May numbers for consumer prices and unemployment. In April, the inflation rate was 2.0 percent, while the jobless rate came in at 3.2 percent.
News are provided by

Insta

Forex.
moneygrows
Posting Freak


Posts: 10,406
Threads: 2
Joined: Apr 2011
Reputation: 0

RBA Steps up Focus on Financial Stability amid Rising Risks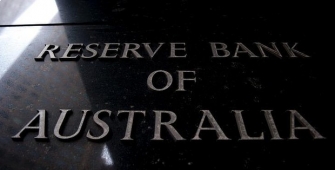 Australia's central bank intensified its warning on financial stability amid surging property prices and swelling household debt, a risk that prompted ratings agency to downgrade the credit rating on the nation's four biggest bank earlier this week. Concerns regarding the impact of a sharp tempering of prices in the currently hot real estate market means Australia's interest rates will likely remain at a historic low of 1.50 percent for an extended period of time, despite some central banks around the world shifting their tone into a more hawkish one. The Reserve Bank of Australia last slashed rates in August 2016 and since then had left it unchanged as it monitors the risk of record-high household debt, weak inflation and soft consumer spending. Minutes of RBA's June meeting showed that central bank officials discussed extensively the ties between financial stability and monetary policy. They even evaluated the impact of varying policies in several countries. The slow wage growth is also seen to hinder the RBA from hiking rates, as doing so would bolster mortgage costs for Australian families whose finances are already being squeezed by debts.
News are provided by

Insta

Forex.
moneygrows
Posting Freak


Posts: 10,406
Threads: 2
Joined: Apr 2011
Reputation: 0

Oil Hovers Near Multi-Month Lows as Glut Weighs Prices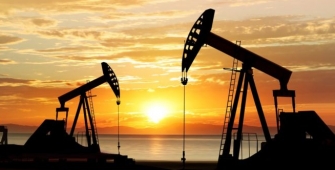 Oil markets steadied around seven-month lows as investors shifted their attention towards persistent indications of increasing crude inventories that are weakening the effectivity of OPEC and other producers efforts to shore up prices. Brent futures traded up 4 cents at $46.95 per barrel. In the previous day, they traded down 46 cents or 1 percent to finish at $46.91 per barrel. That was the international benchmark's lowest level since November 29, a day before OPEC and other crude-producing countries brokered a historic deal to lower production for six month at the start of 2017. U.S. WTI crude futures traded down 1 cent at $44.19 per barrel. The contract fell 54 cents or 1.2 percent in the prior session to end at $44.20 per barrel, its lowest close since November 14. Both benchmarks are now down 15 percent since OPEC decided to extend the output cut by nine more months until March 2019.
News are provided by

Insta

Forex.
moneygrows
Posting Freak


Posts: 10,406
Threads: 2
Joined: Apr 2011
Reputation: 0

Australian Bank shares Sink after Moody's Downgrade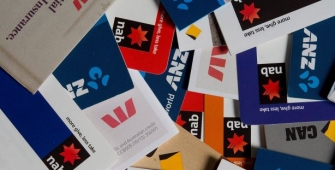 Shares of Australia's "Big Four" lenders traded weaker after Moody's Investors Services lowered its credit rating and a few other domestic banks, citing the heightened risks posed by the household sector. Australia & New Zealand Banking Group Ltd. Banking Group fell 0.5 percent, Westpac Banking Corp. slid 0.3 percent, Commonwealth Bank of Australia declined 0.3 percent and National Australia Bank weakened by 0.5 percent. According to the ratings agency, the downgrade was prompted by the heightened risks in the household sector that increase the sensitivity of Australian lenders' credit profiles to an adverse jolt. The cut also comes despite the enhancement of the Australian banking sector's capital and liquidity in the past years. Moody's added that the strength of household balance sheets and relatively bank portfolios to a significant economic downturn has not yet been tested at the current levels of private sector indebtedness.
News are provided by

Insta

Forex.
moneygrows
Posting Freak


Posts: 10,406
Threads: 2
Joined: Apr 2011
Reputation: 0

Gold Surges following Five-Week Low as US Dollar Rallies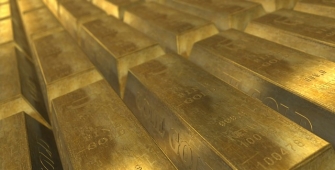 Gold climbed on Tuesday following it previously stood close to a five-year trough, as the US dollar rallied on a hawkish comment by a Federal Reserve policymaker. Statements of William Dudley, head of the New York Fed, ignited anew projections that Fed officials will keep trailing its direction of more rigid monetary policy. Spot gold closed at $1,243.90, up 0.1%. Earlier, it reached a new five-week trough of $1,242.61. US gold futures for August delivery traded at $1,245.10 an ounce, down 0.1%.
News are provided by

Insta

Forex.
moneygrows
Posting Freak


Posts: 10,406
Threads: 2
Joined: Apr 2011
Reputation: 0

New Zealand Dollar Advances Versus Majors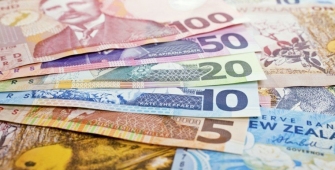 The New Zealand dollar rose versus most majors in the Asian session on Tuesday. From the other day's closing value of 1.5418 and 80.62, the kiwi strengthened against the euro and the yen to 1.5404 and 80.87, respectively. The NZ dollar climbed against the U.S. dollar to 0.7241, against the Australian dollar to 1.0488 from from early 4-day lows of 0.7219 and 1.0520, respectively. If the kiwi extends its uptrend, it may find support around 1.52 against the euro, 82.00 versus the yen, 0.74 against the greenback and 1.03 against the aussie.
News are provided by

Insta

Forex.
moneygrows
Posting Freak


Posts: 10,406
Threads: 2
Joined: Apr 2011
Reputation: 0

Ichimoku indicator analysis of USDX for June 20, 2017
The Dollar index bounced off support yesterday as we expected and is trying to break above the 97.50 short-term resistance. This will mean that the move towards 98.50 we were expecting has started.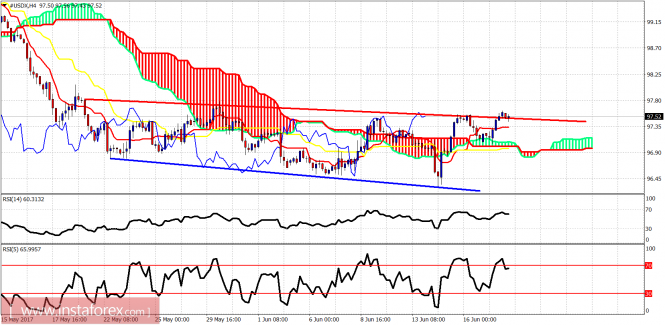 Red line - resistance
Blue line - support
The Dollar index bounced off the short-term cloud support and is trying to break above resistance. Trend is neutral as the index has been trading in a range for several weeks. Short-term support is at 97. Resistance at 97.50-97.60.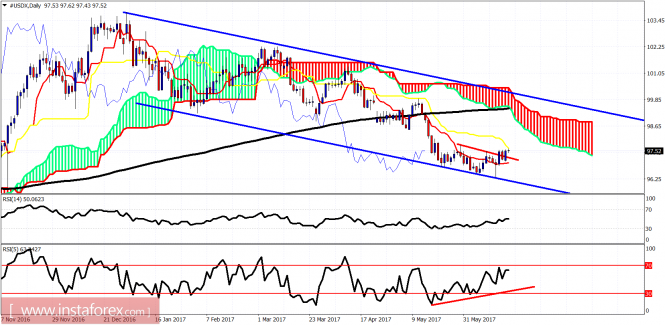 Blue lines - bearish channel
Red line - resistance trend line
The Dollar index is diverging in the daily chart and is bouncing off the lower channel boundary. I still expect price to move towards the daily Kumo at least near 98.30-98.50. It is also possible to reach the upper channel boundary. To sum up, I remain bullish about the US dollar at least for the short term.
moneygrows
Posting Freak


Posts: 10,406
Threads: 2
Joined: Apr 2011
Reputation: 0

Daily analysis of GBP/USD for June 20, 2017
The pair was under selling pressure at the start of the week, being capped by the 200 SMA at H1 chart and it now targets the support zone of 1.2660. Overall, the bearish bias remains intact and as long as GBP/USD remains below that moving average, we might expect further weakness toward 1.2660 in a first degree, while a rebound can drive the pair to test the 1.2826 area.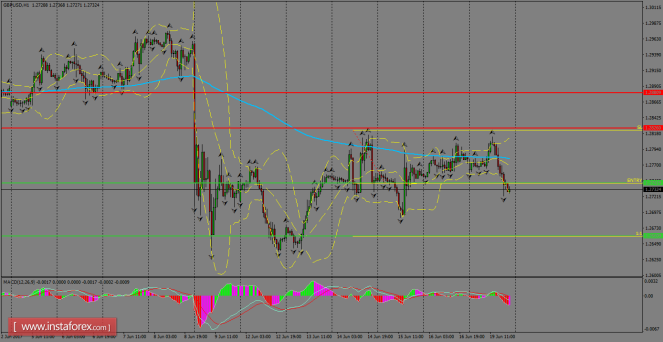 H1 chart's resistance levels: 1.2826 / 1.2880 H1 chart's support levels: 1.2741 / 1.2660 Trading recommendations for today: Based on the H1 chart, sell (short) orders only if the GBP/USD pair breaks a bearish candlestick; the support level is at 1.2741, take profit is at 1.2660 and stop loss is at 1.2823.
moneygrows
Posting Freak


Posts: 10,406
Threads: 2
Joined: Apr 2011
Reputation: 0

Ichimoku indicator analysis of gold for June 20, 2017
Gold price has reached our $1,245 target yesterday. It is time for Gold bears to be cautious and use protective stops as any day now we could see a reversal in Gold back towards $1,260-70.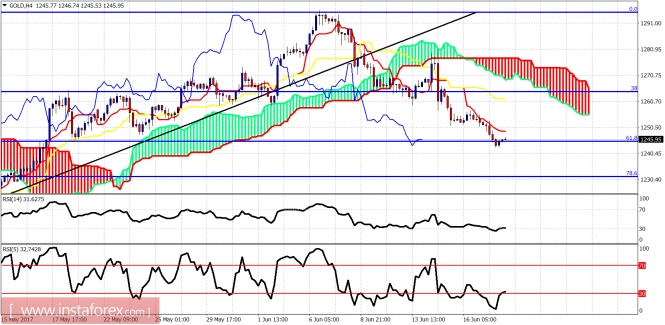 Trend is bearish. Price is below both the tenkan- and kijun-sen indicators. Price is around the 61.8% Fibonacci retracement so a bounce is justified from current levels. However this does not mean that we can continue lower towards $1,230 and the 78.6% Fibonacci retracement before a bigger bounce.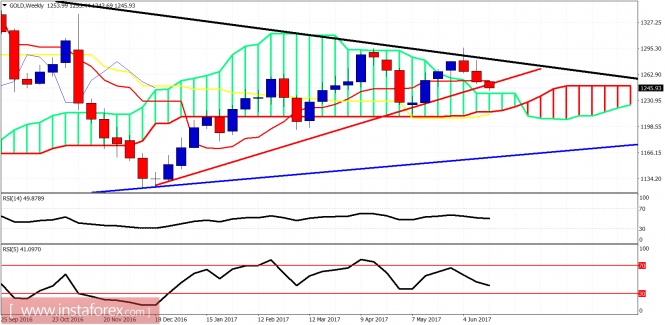 Black line -long-term resistance trend line
Red line - short-term support
Blue line - long-term support trend line
The double top in Gold and the new rejection at the black trend line does not make me change my longer-term bullish view, however opens up a short-term bearish scenario where we can test the blue trend line support specially if we break below the weekly Kumo. Therefore it is important for short-term bulls to hold above $1,200.
moneygrows
Posting Freak


Posts: 10,406
Threads: 2
Joined: Apr 2011
Reputation: 0

Fundamental analysis of GBP/USD for June 20, 2017
Recently GBP/USD has been in a volatile corrective structure after breaking below the 1.2800 support level. The British currency is weighted by the uncertainty over formation of the new government and the Brexit situations. There are currently a lot of questions remain open which are expected to be solved slowly. Meanwhile, USD has gained ground after the rate hike and hint on inflation by the FOMC members. Today Bank of England Governor Mark Carney is going to comment about upcoming interest rates and monetary policy decisions which is expected to have high impact on the currency movement today. The United States will deliver the current account report which is expected to show a greater deficit at -124B from -112B previously. Besides, FOMC member Stanley Fischer will speak today. His comments can lead to a good amount of volatility to strike the market today. As of the current situation in this pair, USD is expected to gain further against GBP in the coming days.
Now let us look at the technical picture. The price has rejected the resistance area at 1.2800 several times. As long as the price remains below the level, there are higher chance that the pair will move down to 1.2515 support level in the coming days. The dynamic level 20 EMA is also holding the price currently as a resistance and the bearish bias is expected to continue further until the price breaks above 1.2800 with a daily close.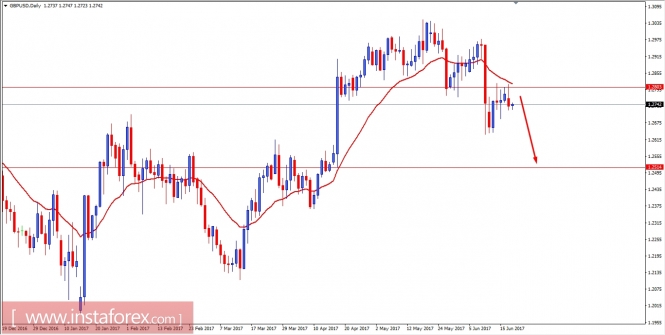 moneygrows
Posting Freak


Posts: 10,406
Threads: 2
Joined: Apr 2011
Reputation: 0

Fundamental Analysis of USD/JPY for June 20, 2017
USD/JPY has shown a good amount of impulsive bullish move recently bouncing off from 109.00 support area. Yesterday, Japan's Trade Balance report was published with a downbeat deficit of 0.13 trln which was expected to be at a 0.35 trln surplus. As the export demand and currency demand are directly linked, a trade report has high impact on a currency's dynamic and it also influences industrial production and domestic producer prices. The dismal Trade Balance report yesterday led to more gains of USD against JPY yesterday. Besides, the US dollar is one of the most attractive assets right now due to rise in the Treasury Yields. Recently, FOMC member William Dudley dropped a hint about rising wages to revive domestic inflation in the short term. USD Current Account report is due later today which is expected to show wider deficit at -124B from -112B previously and FOMC member Stanley Fischer is going to speak after a while about the nation's key interest rate and future monetary policy decisions. Today, Japan did not present any economic reports but any negative economic report from the US today will lead to further gains on the JPY side.
Now let us look at the technical chart. The price is currently being rejected off the 111.70. Recently, the price has respected the level as resistance for several times. So at present, the following scenario is expected. If the price remains below that level with a daily close, then the price will go down towards 108.80 support level in the coming days. On the other hand, if the price breaks above 111.70 with a daily close above it, we will consider buy positions with a target towards 114.30 area.
moneygrows
Posting Freak


Posts: 10,406
Threads: 2
Joined: Apr 2011
Reputation: 0

Technical analysis of USD/JPY for June 20, 2017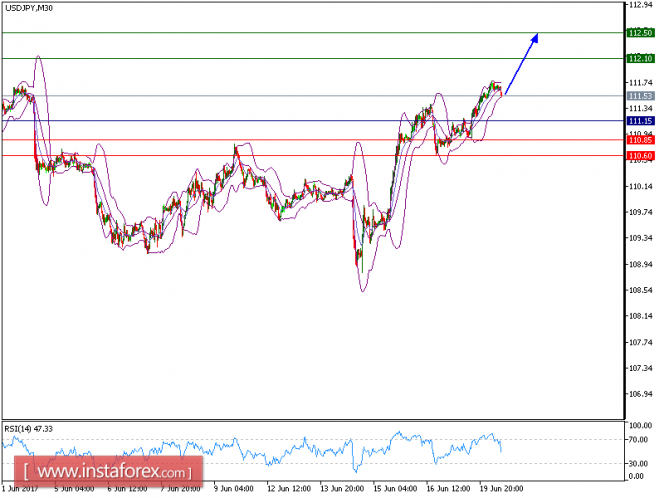 Our upside target of USD/JPY has been hit. USD/JPY is expected to continue its upside movement. The pair recorded higher tops and higher bottoms since June 16 that confirmed a positive outlook. The upward momentum is further reinforced by the rising 20-period and 50-period moving averages. The relative strength index is bullish and calls for a further upside.
Hence, as long as 111.15 holds on the downside, look for a new rise to 112.10 and even to 112.50 in extension.
Alternatively, if the price moves in the opposite direction as predicted, short position is recommended below 111.15 with targets at 110.85 and 110.60.
Chart Explanation: The black line shows the pivot point. The present price above pivot point indicates the bullish position while the price below pivot points indicates the short position. The red lines show the support levels and the green line indicates the resistance levels. These levels can be used to enter and exit trades.
Strategy : BUY, Stop Loss: 111.15, Take Profit: 112.10
Resistance levels: 112.10, 112.50, and 112.85
Support levels: 110.85,110.60, and 110.35
Users browsing this thread: 2 Guest(s)
Komen: 9817 <<>> Dilihat: 258373
86.67% (1.3 Pips) Autorebate - Instaforex Daily Automatic Payment
moneygrows
69821
Recommended Broker FX 2016
Berita Forex Terkini