86.67% (1.3 Pips) Autorebate - Instaforex Daily Automatic Payment
moneygrows
Posting Freak


Posts: 9,417
Threads: 1
Joined: Apr 2011
Reputation: 0

Ichimoku indicator analysis of gold for June 23, 2017
Gold is making higher highs and higher lows in the 4-hour chart and is unfolding the upward reversal we expect off the $1,245 price area. Gold is expected to continue the bounce towards $1,260 and higher. We could see a short-term new low towards $1,230 but it is not necessary.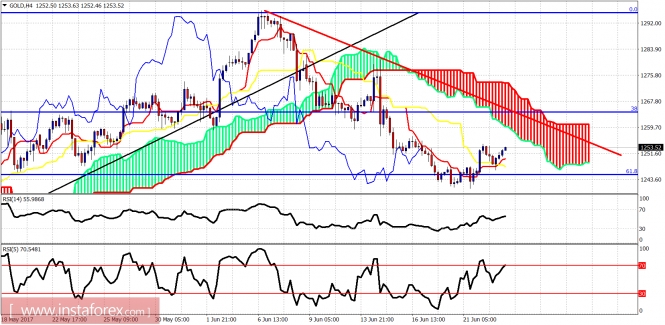 Red line - resistance
Gold price is bouncing off the 61.8% Fibonacci retracement but remains below the red trend line resistance and the 4-hour Kumo (cloud). Price is above the tenkan- and kijun-sen indicators and this is a short-term bullish sign that the upside could continue.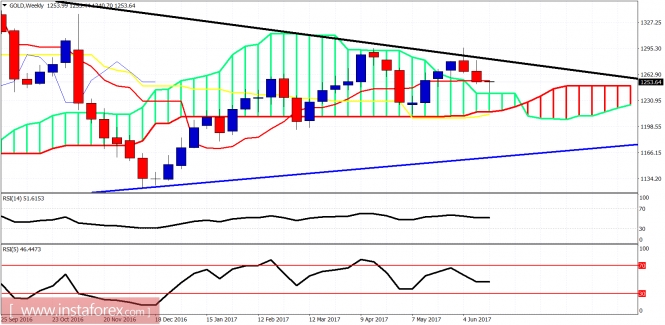 Black line -long-term resistance
Blue line - long-term support
Gold price remains trapped inside the weekly triangle pattern. Price got rejected again at the long-term resistance channel. Price has broken out and above the weekly Kumo and has successfully back tested the Kumo (cloud) support. A break above the black trend line will be a very bullish signal. It is not clear however if we first test the long-term blue trend line first or break right away.
moneygrows
Posting Freak


Posts: 9,417
Threads: 1
Joined: Apr 2011
Reputation: 0

Daily analysis of major pairs for June 23, 2017
EUR/USD: On Thursday, there was an upwards bounce on the EUR/USD pair in the context of a downtrend. The upwards bounce could end up giving a good short-selling signal as price is expected to go downwards, reaching the support lines at 1.1150 and 1.1100.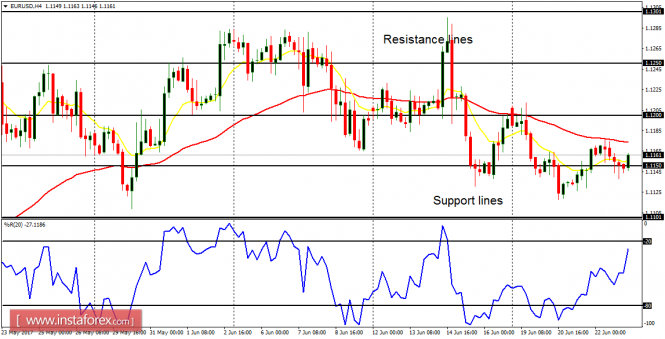 USD/CHF: This pair continues to be corrected gradually lower and lower, and this has begun to pose a threat to the recent bullish signal. The Williams' % Range period 20 is already in the overbought region, and the EMA 11 is almost crossing the EMA 56 to the downside. By the time prices crosses the support level at 0.9650 to the downside, the bias would have turned bearish.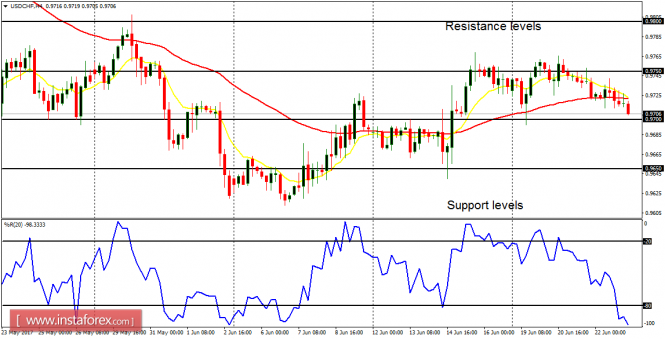 GBP/USD: The Cable also has continued to climb upwards in the context of a downtrend. Price would not really turn bullish until it goes above the distribution territory at 1.2900, which would require a serious bullish movement. On the other hand, price may eventually drop from here, supporting the current dominant bearish bias.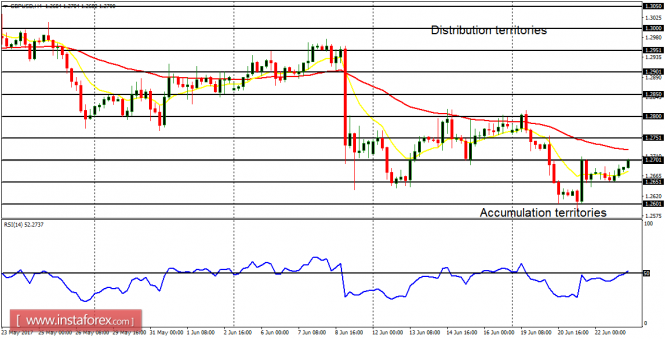 USD/JPY: There has been nothing significant on this market since yesterday, since it is generally quiet now. The EMA 11 is above the EMA 56, and the RSI period 14 is above the level 50, which means that the bias remains bullish. Once the RSI period 50 goes below the level 50, it would warn of a trend reversal.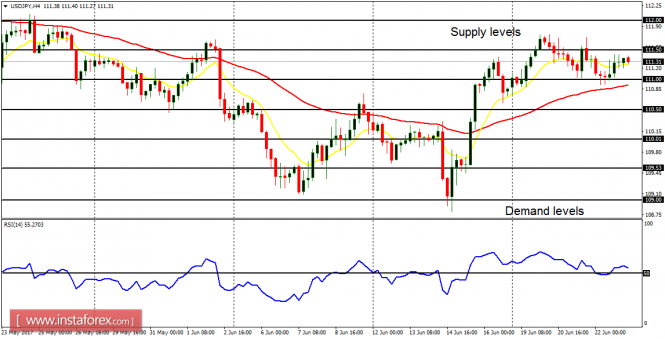 EUR/JPY: This cross has not done anything significant this week. A movement above the supply zone at 125.00 would result in a clean Bullish Confirmation Pattern, while a movement below the demand zone at 123.00 would result in a Bearish Confirmation Pattern. This is the scenario that is supposed to happen early next week, since price may not do anything serious today.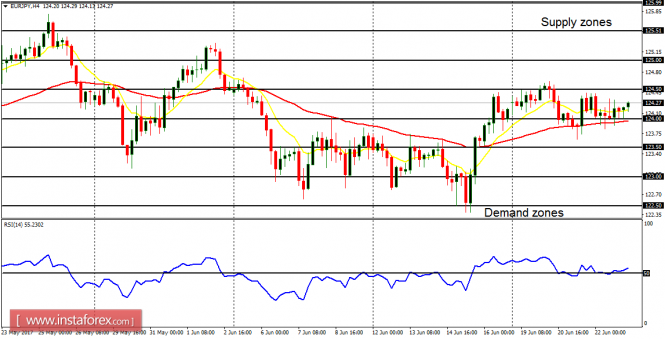 moneygrows
Posting Freak


Posts: 9,417
Threads: 1
Joined: Apr 2011
Reputation: 0

Elliott wave analysis of EUR/NZD for June 23, 2017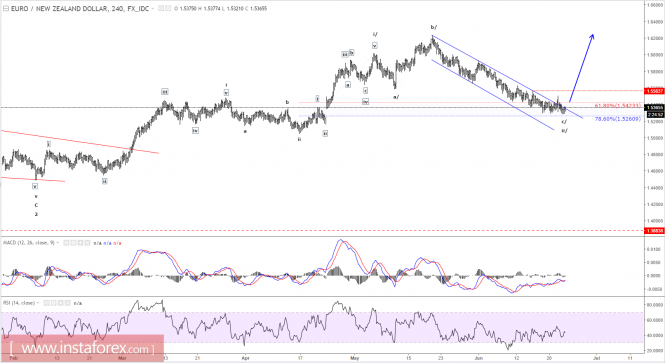 Wave summary:
Not much to add here. EUR/NZD is trying to bottom in wave ii/, but a break above minor resistance at 1.5564 remains needed to confirm that wave ii/ has completed and wave iii/ higher to above 1.6237 is developing.
As long as resistance at 1.5564 is able to cap the upside, we will need to allow for a slightly new low, but the downside potential should remain limited.
R3: 1.5633
R2: 1.5564
R1: 1.5504
Pivot: 1.5400
S1: 1.5352
S2: 1.5291
S3: 1.5238
Trading recommendation:
We are long EUR from 1.5446 with stop placed at 1.5246. If you are not long EUR yet, then buy a break above 1.5564 and start by using the same stop.
moneygrows
Posting Freak


Posts: 9,417
Threads: 1
Joined: Apr 2011
Reputation: 0

InstaForex Model Range


InstaForex Company raffles off premium class auto or sport coupe annually. One of our slogans - the best for traders! That is why we pick up the most up-to-date vehicles which implicate integrity, safety and comfort - just as we render trading instruments and options.
Do you want to have a high-class car of a prestige brand in your garage? Join InstaForex contests! In order to struggle for prize it is necessary to register for the campaign you like and fulfill its simple terms. Each campaign winner is determined in a random way through the number formed by the last digits of five currency pairs quotes on the closing date at 23:59 (UTC+3). If your trading account number matches the winning one or comes maximally close to it - you will ride an elite car from InstaForex.
Hummer H3 off-roadster -
Hummer to a Jammy Fellow campaign
Hummer H3 is a real off-the-road tamer. Such a mighty auto will pass through anything, and there are no rough spots which may hinder. The road landscape and winter conditions are not to matter a bit - with this car the driver feels himself confident in any conditions. This impressive vehicle with cross-country capacity is destined for real men! In September 2010 Hummer H3 was presented to a Russian citizen Ruslan Makhauri. A solemn ceremony took place at ShowFx World Exhibition in Moscow.
Lotus Elise roadster -
Win Lotus from InstaForex campaign
Lotus Elise is a luxurious sport car, fascinatingly graceful and concordant. Maximum of pleasure, minimum of spangle - here is the slogan for this laconic and stylish sport car. Classical design of Lotus Elise, its comfy compartment, impetus and high ease of steering inspires every car loving soul. The winner of Win Lotus from InstaForex campaign in 2011 was Nazri Bin Zainuri from Malaysia. He has become the second lucky person who made certain that a car from InstaForex is a reality.
Lotus Evora sport coupe -
the Fast Ride from the Best Broker campaign
A high-powered Lotus Evora is able to take run up to 100 km/h. Its external design combines dynamics and elegance, and the cabin is reasonable in internal structure. This car is excellent on a race track and on a high road as well. On a summer's eve 2012 a new sports coupe Lotus Evora was presented to the citizen of Podolsk, Moscow oblast, Yuriy Lukinov.
Porsche Cayenne crossover -
Best Trading, Luxury Driving campaign
Porsche Cayenne is a premium class comfort from the German Porsche concern. Porsche Cayenne is a bestseller in the auto world. Sporty exterior, luxuriant interior trim, road stability and cross-country capacity makes it really top tier.
A glorious Porsche Cayenne will be raffled off in September 2013. You have a chance to become its holder! Hurry up to register for the Campaign!
Lotus Evora sport car -
Sports Lotus is Your Trade Bonus campaign
Leaders never rest on their laurels - InstaForex and Lotus are a clear proof. Probably, you will be lucky to reach for the top and win everybody's dream - Lotus Evora sport car by a famous British automaker in summer 2014. More prestige, more comfort, improved interior and technical features - all that is Lotus Evora. Join the Campaign and move ahead with us!
Porsche Cayman sport coupe -
Sport Style: Porsche Cayman from InstaForex
A legendary Porsche Cayman will be raffled by InstaForex Company in 2015. Porsche Cayman is a child of innovative technologies in automobile production. A two-seat coupe has a unique equipage and demonstrates outstanding speed and dynamics results. Porsche Cayman is a fusion of image and usability.
moneygrows
Posting Freak


Posts: 9,417
Threads: 1
Joined: Apr 2011
Reputation: 0

Sub IB commission increased twofold!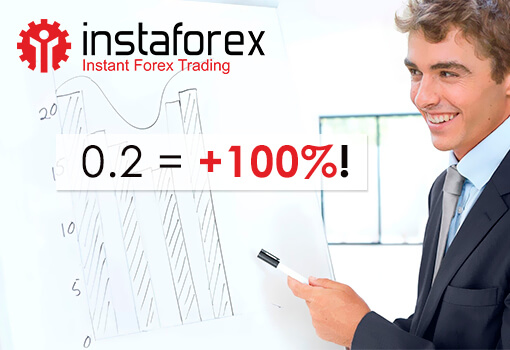 Dear partners,
InstaForex is glad to announce a commission rise in the two-level Sub Introducing Broker program. The commission was raised by 100% to 0.2 pips of a client's trade of every sub-partner. This is one of the highest commissions in the market, according to a marketing research conducted by the company. Now partners can focus on referring both new clients and partners as commission from sub-partners' clients will bring in twice as many profits!
moneygrows
Posting Freak


Posts: 9,417
Threads: 1
Joined: Apr 2011
Reputation: 0

Bonus InstaForex
Broker InstaForex hanya menawarkan teknologi terbaru untuk dagangan dalam talian bagi memastikan para pelanggan mencapai hasil keuntungan yang maksima di dalam perdagangan Forex. Selain daripada menyediakan keadaan perdagangan yang kondusif, InstaForex juga telah menyediakan garis bonus istimewa untuk para pelangganya.
Berdasarkan pada senarai bonus dibawah, anda berpeluang untuk memilih salah satu pilihan yang paling sesuai untuk anda. Di bawah ini adalah merupakan bonus penyertaan untuk para pedagang yang menambah dana buat kali pertama ke dalam akaun dagangan dengan InstaForex dan juga bonus untuk ahli Kelab InstaForex. InstaForex menyediakan setiap pelangganya peluang untuk menerima bonus terbaik untuk perdagangan dalam pasaran mata wang.
Bonus 250%
InstaForex telah melancarkan program bonus yang tiada tandingan bagi pelanggan baru. Bermula dari 15 Jun, setiap pelanggan baru InstaForex boleh mengidamkan ganjaran bonus 250%.
Bonus Kerjasama LFC 100%
InstaForex dengan sukacitanya ingin mengumumkan kempen baru! Sepanjang tempoh kerjasama InstaForex bersama penyandang gelaran juara 18 kali Liga Perdana Inggeris, Liverpool FC, pihak pengurusan InstaForex telah membuat keputusan untuk melancarkan kempen menarik. Kini, bonus baru yang tiada tandingan boleh didapati untuk kesemua pelanggan.
Bonus 55%
Sebagai salah seorang daripada pelanggan InstaForex, anda berpeluang untuk mendapatkan bonus 55%. Oleh itu, anda akan dikreditkan dengan bonus 55% setiap kali anda melakukan pendepositan ke dalam akaun dagangan anda.
Bonus Penyertaan 30%
Kesemua pelanggan InstaForex akan dikreditkan dengan bonus Penyertaan 30%. Satu-satunya syarat untuk mendapatkan bonus ini adalah mendaftar akaun perdagangan dengan syarikat dan mengisi borang permohonan.
Bonus Kelab Instaforex
Bukan sahaja kad kelab InstaForex menawarkan pelbagai faedah istimewa tetapi juga memberikan peluang kepada para pelanggan untuk mendapatkan bonus istimewa untuk setiap pendepositan. Kesemua pemegang kad Kelab InstaForex berhak untuk mendapatkan bonus kelab selepas kad diaktifkan.
Users browsing this thread: 6 Guest(s)
Komen: 9036 <<>> Dilihat: 191425
86.67% (1.3 Pips) Autorebate - Instaforex Daily Automatic Payment
moneygrows
69821