Eur/cad: Stay Short For 1.4650
DanielH
Newbie


Posts: 10
Threads: 5
Joined: Mar 2018
Reputation: 0

03-14-2018, 10:09 AM, (This post was last modified: 03-14-2018, 10:11 AM by DanielH.)
Canada's annual inflation rate ticked higher in July as gas prices climbed, suggesting price pressures are picking up after June's subdued reading and clearing the way for the Bank of Canada to raise interest rates again in the fall.
The inflation rate rose to 1.2% from June's 20-month low of 1.0%, matching expectations, and two of the three measures of core inflation that the Bank of Canada introduced last year saw gains, Statistics Canada said.
CPI common, which the central bank says is the best gauge of the economy's underperformance, was unchanged at 1.4%, while CPI median, which shows the median inflation rate across CPI components, rose to 1.7% from 1.6%. CPI trim, which excludes upside and downside outliers, rose to 1.3% from 1.2% in June.
We think the data gives the central bank room to raise interest rates in September or October. There is a two-in-three chance of an interest rate hike by the Bank of Canada in October, data from the overnight index swaps market shows, little changed from before the inflation report.
The rate hike in July, the first in nearly seven years, was seen as a step towards returning borrowing costs to more normal levels after rate cuts following the global financial crisis took them to near-historic lows.
The CAD rose to a two-week high against the USD and the EUR on Friday. Investors are not sure whether the Fed is going to raise rates but are more inclined to believe that the Bank of Canada is going to raise rates. Adding to support for the loonie, prices of oil, one of Canada's major exports, rose 3% as U.S. drillers cut rigs and the greenback fell.
Technical analysis: The EUR/CAD remains below short-term moving averages that are negatively aligned. This supports our bearish view on this pair. The nearest support levels are: 1.4732 low on August 17 and 1.4692 (38.2% fibo of February-May rise). 
by 
https://alpari.com/en/analytics/currency/converter/CAD-EUR/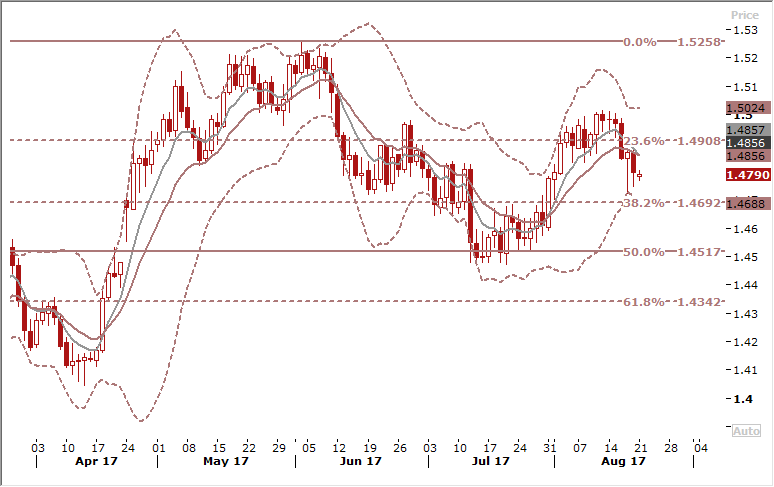 Users browsing this thread: 1 Guest(s)
Komen: 0 <<>> Dilihat: 28
Eur/cad: Stay Short For 1.4650
DanielH
116288
Recommended Broker FX 2016
Berita Forex Terkini